Optimize your investment decision making process with the innovative features of the ProRealTime Trading platform.
Trading from charts
Place your orders and monitor your positions directly from the charts. Available orders include:
Market
OCO (one cancels the other)
Limit
OTO (one triggers the other)
Stop
Triple orders (entry, target and stop)
Trailing stop
Oblique orders
You can also create your own pre-defined order templates to gain precious seconds when entering or exiting a position.
Technical analysis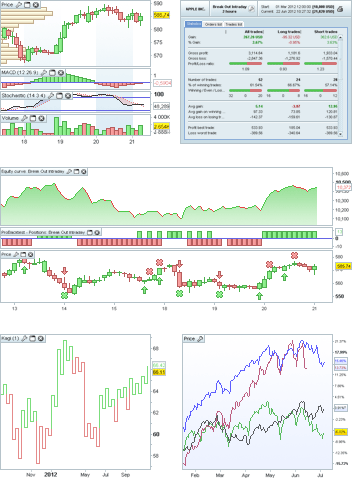 Indicators:
100+ technical indicators included in the platform.
Import additional indicators created by the ProRealTime community.
Create your own indicators with our easy ProBuilder programming language.
Backtesting & optimization:
You can create automatic trading systems with or without programming (learn more about automatic trading).
Our backtest feature allows you to test and optimize trading systems before using them in real markets.
The platform remotely uses the processing power of our dedicated servers to run your backtests; results are calculated up to 10 times faster than what your computer could do alone.
Advanced tools:
Spreads:

create spreads between two securities and display them in standard views or in candlestick mode.

Extensive timeframe selection:

our (x) seconds, (x) minutes, (x) hours and (x) days timeframes allow unlimited possibilities to create custom charts.

Non-time based views:

our (x) ticks and (x) volumes charts give an alternate analysis of market trends focusing on the impact of liquidity on price movements.

Chart styles:

classic (price line, candlesticks, barcharts, range bars... ) and advanced chart styles (Renko, Kagi, Point & Figure, Market Profile®...).

Real-time alerts:

place alerts on price, indicators and trendlines. Automatically trigger orders from your alerts.
Real-time market scanning tools
The platform includes state of the art scanning tools.
Our ProScreener feature performs full market scans to identify securities matching your investment criteria.
Full market scans:

scan your personal lists, full stock markets and forex markets.

Flexible:

almost unlimited scanning possibilities; set multiple criteria on price, indicators...

Multi-time frame:

define scan conditions in multiple timeframes simultaneously .

Real-time:

the results of your scans update in real-time to detect new securities matching your conditions.

No programming required:

ProScreener includes a wizard to help you to generate complex scans within minutes and with no programming required.
Our other scanning tools include:
Daily and intraday top movers for each equity market
Gap detection and abnormal volume detection
Pre-opening and order book top movers
Candlestick pattern detection
Datafeed & historical data
A high quality datafeed is essential to be able to respond quickly to market trends and for fast order execution.
Therefore, ProRealTime has made major investments in datafeed infrastructures to provide you with:
Direct connectivity:

ProRealTime is directly connected to many of the worlds' largest exchanges (no intermediaries).

Push datafeed:

our push datafeeds let you receive all the ticks as soon as they appear in the market.

Redundant architecture:

the platform has access to two separate datafeeds to ensure continuity of service.

24-hour maintenance:

a dedicated team of data engineers monitors the datafeeds using the latest technology.

Extensive historical data:

the platform includes an extensive amount of intraday and daily historical data.
Our 16 years of experience in datafeed management and the reliability of our infrastructures has led major banks & brokerage firms to rely on our services.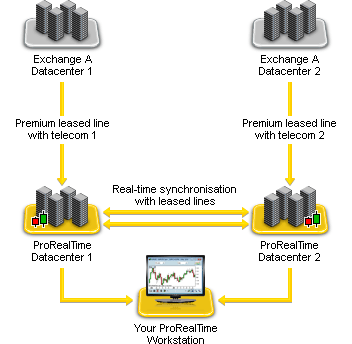 Charting analysis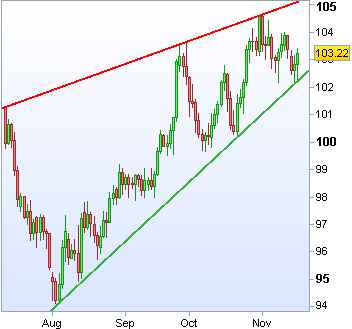 Drawing tools:
Over 20 drawing tools are at your disposal including basic support and resistance drawing tools and more advanced tools such as Fibonacci Retracements, Gann tools, and channels (Andrew's pitchfork, Raff channel etc ...).
Use our drawing assistance mode to draw your lines and objects with more precision.
Automatic trendlines & trend detection:
The ProRealTrend module automatically draws trend lines:
Display/hide horizontal and oblique support and resistance lines in one click
Differentiate major price levels from minor levels
Benefit from automatic line updates based on the latest price movements
ProRealTrend also includes a detection module : instantly find securities with price close to or breaking out of channels and triangles.
Additional features
Personal lists & portfolios
Countdown to next bar on charts
Comparison of multiple securities on the same chart
Display Bid/Ask on charts
Linear, logarithmic and relative scale types
Customize time zones & trading hours for each market
Continuous futures charts for high quality historical data
Advanced search function to find securities easily
Global cursor (display candlestick periods on all time units)
And much more...
Start using ProRealTime