About ProRealTime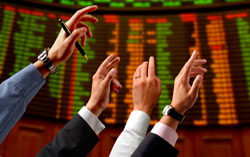 ProRealTime is a leading online trading platform.
Created in 2001, the ProRealTime Trading platform is used by tens of thousands of Professional and Non-Professional traders every day.
The platform provides trading directly from charts with several world-renowned brokers for order execution on Stocks, Futures, Forex and Commodities.
ProRealTime's high quality charts and analytic tools as well as reliable market data make it a powerful decision support tool.
Why choose ProRealTime Trading?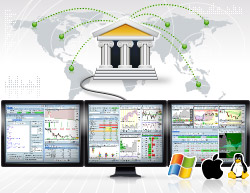 Online trading platform taken to a whole new level
ProRealTime uses technology combining the power of a desktop solution with the flexibility of an online platform.
Once started, the trading platform runs independently from your web browser. It can be launched from any computer with internet access, no installation required.
Advanced charting & numerous analytic tools
Improve your investment decision making with analytic tools : technical analysis, automatic trend detection, markets scans and real-time financial news are just some of the tools at your disposal in the platform.
Discover ProRealTime's main features
Constantly evolving
ProRealTime releases regular updates to constantly improve the trading platform and introduce new features.
Updates are free and automatically loaded with no intervention on your side required.
Ease of use
The platform is user friendly enough to allow new users to get started wihout any training.
In addition to customer support, a help manual and video tutorials are at your disposal.
Trading from charts
Simple orders: Markets, Limits and Stops
Advanced orders: Trailing Stops, OCO, OTO, Triple orders and more
Competitive prices
In addition to attractive brokerage prices, you get rebates for every executed order. The more you trade, the higher rebates you can benefit from and the more free services you get!
Reliable services
Get direct support by phone and e-mail from experienced staff in English.
Our technical architecture is fully redundant via multiple datacenters to ensure the highest availability of our services.
Our direct connection to the main world exchanges (no intermediaries) gives us full control over financial datafeeds to provide you the best possible service.
Start using ProRealTime